flexible customized , future proofed , secure engineered & Hardware optimized
these are the high performance systems kvm-tec 4FUTURE 
This is exactly what the new KVM Extender generation looks like, which meets the demands of HIGH Performance KVM systems now and in the future with the latest technologies.
We would be happy to introduce you to the KVM System4FUTURE concept, with which you can address many customers & markets..
… this is what the KVM future looks like
kvm-tec Functionalities
Features & Functionalities as Software features free home delivered with our KVM Extenders.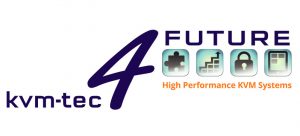 Solutions & Matrix Switching Systems
All KVM extenders are compatible with standard network components and can be used in matrix switching systems from 48 to 2000 or more endpoints.
High Performance KVM Systems
The new generation KVM systems need flexibility and all devices should be combinable with each other. Full HD and 4K depending on the application in a KVM Matrix System. Switching systems with standard network components enable super fast switching and should grow with the system.
For kvm-tec this means that the number of endpoints can be expanded flexibly. Redundancy and uncompressed provide the necessary security in the system. Sustainability is increased by innovative features, which are implemented as software features at kvm-tec without additional hardware. For KVM high performance systems the perfect real time transmission in Full HD and 4K with a latency <5ms with perfect video compression is important. The in-house development USB 2.0 transparent allows for the greatest possible flexibility in the selection of USB devices.
High performance KVM systems are therefore extremely flexible and scalable in size. Gateway and Gateway2go allow access to virtual machines or live images from the switching system.